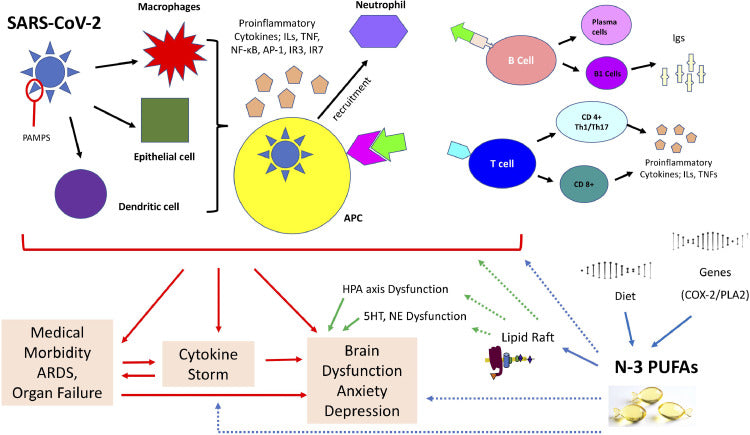 Omega-3在心理、生理上抵御Covid-19的作用
Jane Pei-Chen Chang, Carmine M.Pariante, Kuan-PinSu
Highlights
This is the first review on Omega-3 and COVID-19.
Increased mood disorders during COVID-19.
Omega-3 may improve COVID-19 associated mood symptoms via immunomodulation.
Abstract
As the infected cases of COVID-19 reach more than 20 million with more than 778,000 deaths globally, an increase in psychiatric disorders including anxiety and depression has been reported. Scientists globally have been searching for novel therapies and vaccines to fight against COVID-19. Improving innate immunity has been suggested to block progression of COVID-19 at early stages, while omega-3 polyunsaturated fatty acids (n-3 PUFAs) have been shown to have immunomodulation effects. Moreover, n-3 PUFAs have also been shown to improve mood disorders, thus, future research is warranted to test if n-3 PUFAs may have the potential to improve our immunity to counteract both physical and mental impact of COVID-19.
Read more 
https://pubmed.ncbi.nlm.nih.gov/33031994/
---